Continuum Advisory Group provides strategic consulting to industrial and manufacturing corporations that regularly build and maintain office and manufacturing facilities. Our solutions achieve measurable results, reducing the time and money related to capital and facilities maintenance programs.
We believe that in the delivery of capital programs, four areas of program execution are critical to success: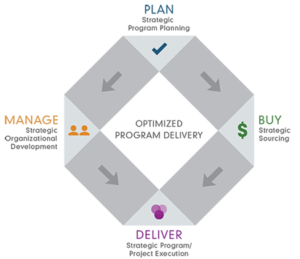 ►The development of a Plan that is linked to the overall corporate strategy and creates an organization optimized to execute the plan is critical.
►The Buying of outside services must be strategic and focus on generating the most value from contractors.
►Management of internal resources must be done to support the overall strategic objective and provide the tools, training and systems needed for internal staff to be successful.
►Delivering the program requires the integration of external and internal resources to deliver on the program objectives while having the measurements in place to monitor and drive performance.
For more information on Continuum's work within the industrial & manufacturing industry contact Gretchen Gagel.