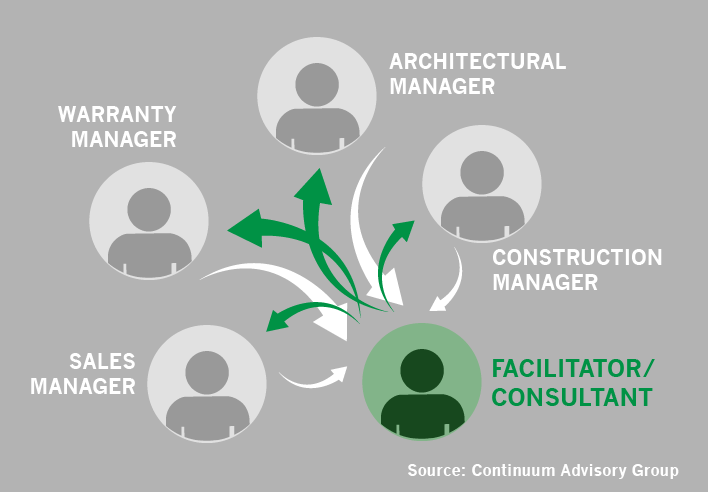 A Fresh Take on Change Management
Your organization needs to change.
You might not know it yet, but you'll find out. You may learn it when your costs are rising faster than your prices can increase. It might be obvious when skilled staff don't come flooding in like they used to. Simply put, change management is needed to align your business processes and practices with the realities of the market.
Unfortunately, change management is not easy. It requires substantial collaboration between disparate parts of your organization. The sales rep who never meets the construction manager? The construction manager who complains about poor quality trades but doesn't talk to the purchasing manager? Those people need to get to know each other. Interdepartmental knowledge and, more importantly, communication are the backbone of a successful change management initiative.
In a new piece for Builder Online, Continuum Advisory Group's Clark Ellis provides a practical, evidence-based approach for how to make that happen. Citing academic research as well as insider knowledge, he shows you how to tap resources both familiar and unfamiliar to propel your company towards change.
About the Author
As CEO and a founding partner with Continuum Advisory Group, Clark Ellis provides consulting services to homebuilders, real estate developers, manufacturers of building products, tools, and equipment, channel participants, and installing contractors. He has served these clients in North and South America, Asia, Europe, the Middle East and Africa. Clark holds a Master of Business Administration in marketing and general management from the Babcock Graduate School of Management at Wake Forest University and a Bachelor of Arts in political science from the University of North Carolina at Chapel Hill.