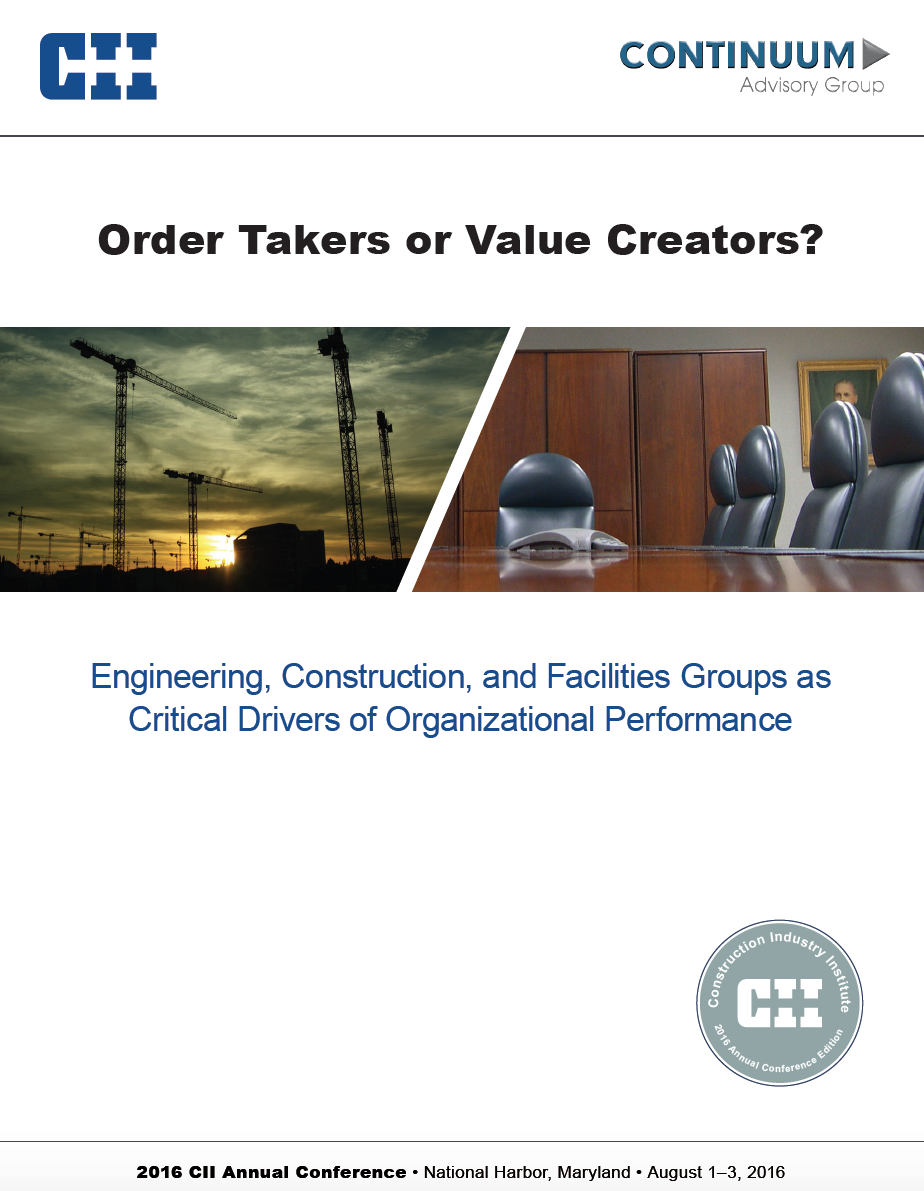 Order Takers or Value Creators?
Engineering, Construction & Facilities Maintenance Groups as Critical Drivers of Organizational Performance
While those embedded in corporate engineering, construction and facilities (E/C/F) teams have long understood the value they create for the corporate bottom line, internal business customers may not realize the vital role these teams could play in enabling corporate success. The role served by corporate E/C/F teams is becoming increasingly critical to the success and survival of the corporation. The Construction Industry Institute (CII) and Continuum Advisory Group joined forces to better understand the relationship between the internal E/C/F departments and the overall corporate strategic plan.
The CII and Continuum Advisory Group research team set out to:
1. More deeply understand the current relationship between corporate E/C/F teams and the internal clients they serve. Are E/C/F departments viewed as "order takers", executing without question the facilities they are directed to build and maintain? Or do these teams sit at the highest-level strategic table, advising on corporate asset strategies and enabling corporate success on key metrics such as share price, return on assets, operating costs and speed to market?
2. Determine if that relationship is shifting. Are E/C/F teams gaining more strategic ground? If so, what strategies and tactics have helped position these teams as the high-value, innovative solution providers they are?
3. Capture invaluable lessons regarding how to align every employee, every team and every department to develop and execute the strategies and tactics that are critical to corporate success.
"After hearing Jon Pemberton speak on his directive to cut 30% of the cost and 50% of the time out of the capital program delivery process at Intel, I immediately approached CII about collaborating on this study. The need for transformational change and improvement in our industry is a critical issue." Gretchen Gagel, President, Continuum Advisory Group
The research team is happy to debrief the study with any company or group who is interested in learning more about the findings and how to apply the strategies to their own organization. Please contact us at [email protected] to set up a 60 minute debrief or click the Contact Us button.