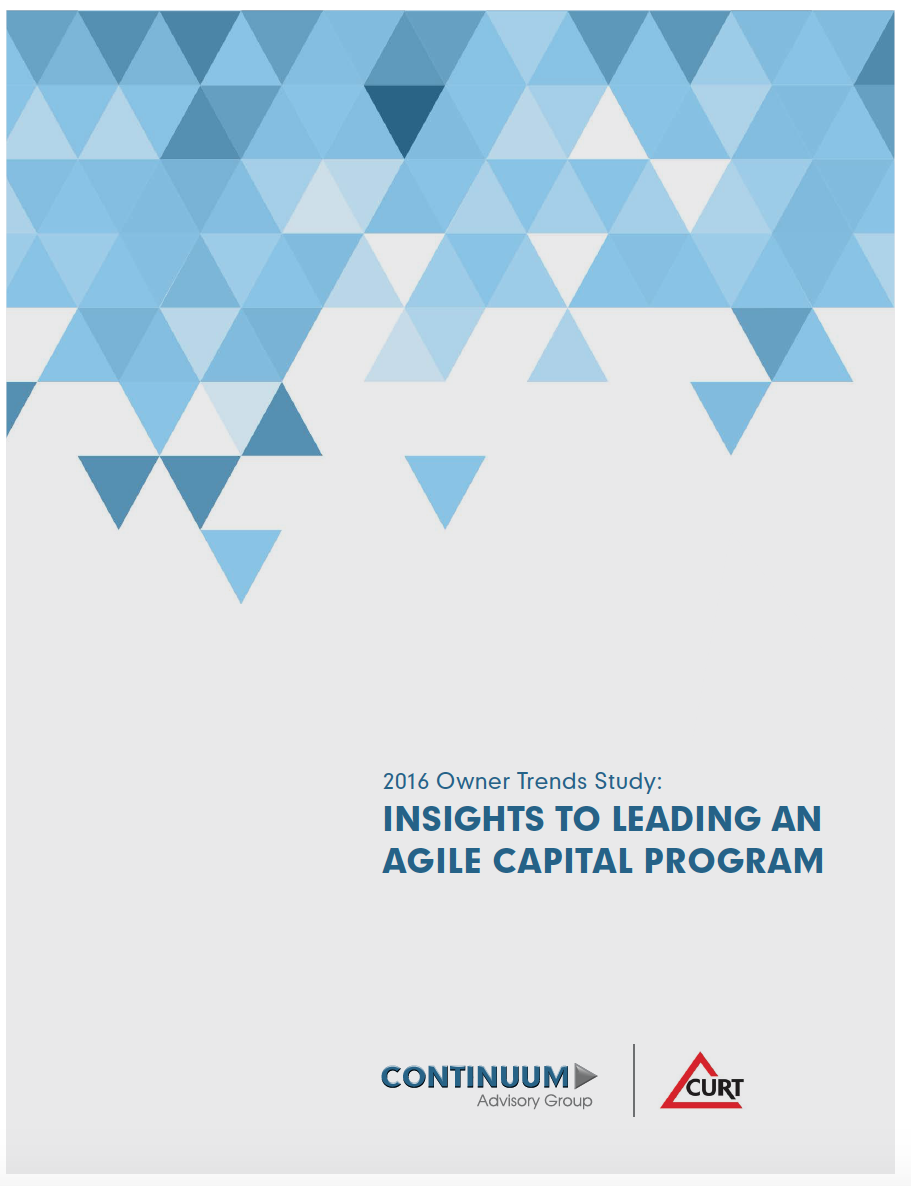 Continuum Advisory Group Releases 2016 CURT Owner Trends Study
Continuum Advisory Group Releases 2016 CURT Owner Trends Study:
Insights to Leading an Agile Capital Program
Continuum Advisory Group has released the 2016 Construction Users Roundtable (CURT) Owner Trends Study, the newest installment of their Owner Trends series.
The study – a collaboration between both organizations – focuses on organizational agility in the capital construction industry. Organizational agility is a measure of a company's ability to rapidly adapt to a changing market, either proactively or reactively.
Continuum Advisory Group regularly conducts industry studies in partnership with industry leaders such as CURT to more clearly understand the challenges their clients face in optimizing capital program delivery. This allows the firm to continue to meet the needs of their clients and achieve their vision of transforming the industry through revolutionary innovation. A core area of focus is upon helping construction industry stakeholders achieve high levels of organizational agility and success.
A similar Continuum Advisory Group study – conducted in 2014 – identified organizational agility as a growing necessity in the industry.
The 2016 study includes a mixture of research, interviews, qualitative data, and quantitative data to explain the growing importance of organizational agility. The ability is examined in detail and applied to specific construction industry issues.
Data was gleaned from dozens of owners, contractors, and industry professionals, and further refined during a moderated panel at CURT 2016. The 21 respondents included General Motors, Siemens, Proctor & Gamble, and other international companies in multiple industries.
"This study brings a valuable focus to how organizational agility is helping industry firms succeed as the pace of change accelerates. To learn more about how leaders are coping and thriving – read on!" – Janice L. Tuchman, Editor-in-Chief, Engineering News-Record
About Continuum Advisory Group
Continuum Advisory Group is a management consulting firm for the homebuilding and construction industries. We work with homebuilders, utilities, owner/developers, contractors, engineering firms, EPC firms and building product manufacturers.