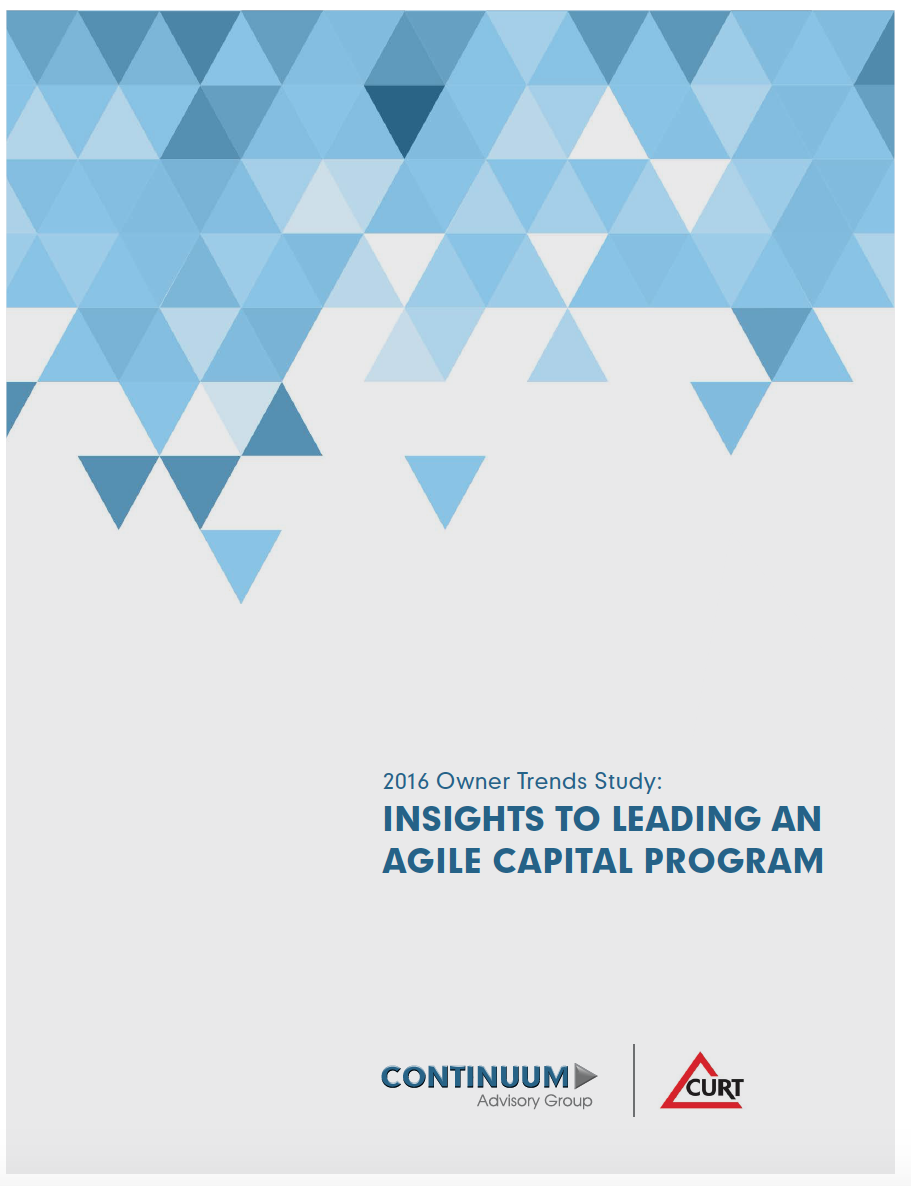 Coming Soon: The 2016 Continuum Advisory Group Owner Trends Study
Imagine you're out on the ocean at the helm of a sail boat.
It's dark, late at night, and the stars are hidden by the clouds. In the precious light you have, you glance down at a damp map…only to find it has changed. Look up, and somehow the stars seem different too, as if they've moved. The rules have changed just as you were figuring them out.
You grip the wheel again, but who is manning the sails? Who is bailing out the water? Can you count on them?
Though the world of capital asset construction is far less life-threatening, the feeling isn't so different. The industry is changing rapidly, and you must be able to adapt. Owners are beginning to realize the importance of this organizational agility. This week, Continuum Advisory Group and the Construction Users Roundtable (CURT) will share the results of the 2016 owner trends study, strongly focused on this crucial ability.
Because when you have a ship to steer, you need your whole crew on board.
About the Study
The 2016 Owner Trends Study piggybacks on the results of Continuum Advisory Group's 2014 study, which revealed the roots of a need for organizational agility. Owners identified regulatory unpredictability, asset flexibility, budgeting issues and other VUCA symptoms as key concerns.
Organizational agility is the art of rapidly shifting your entire organization and practices to adjust to market, legal, and industry conditions. This shift is not only reactive, but also proactive. It requires bold, effective leadership, long-term thinking and enterprise-wide preparation, communication and execution.
The study will include:
Quantitative and qualitative data
Interviews with owners and contractors
Insights from our owner panel at the CURT 2016 National Conference
Current research on leadership and organizational agility
In addition to the raw data, the study will further explore the ins and outs of organizational agility and how to apply it to your organization.
Early Praise
"This study brings a valuable focus to how organizational agility is helping industry firms succeed as the pace of change accelerates. To learn more about how leaders are coping and thriving – read on!" – Janice L. Tuchman, Editor-in-Chief, Engineering News-Record
About the Authors
Continuum Advisory Group is a management consulting firm for the homebuilding and construction industries. We work with homebuilders, utilities, owner/developers, contractors, engineering firms, EPC firms and building product manufacturers.